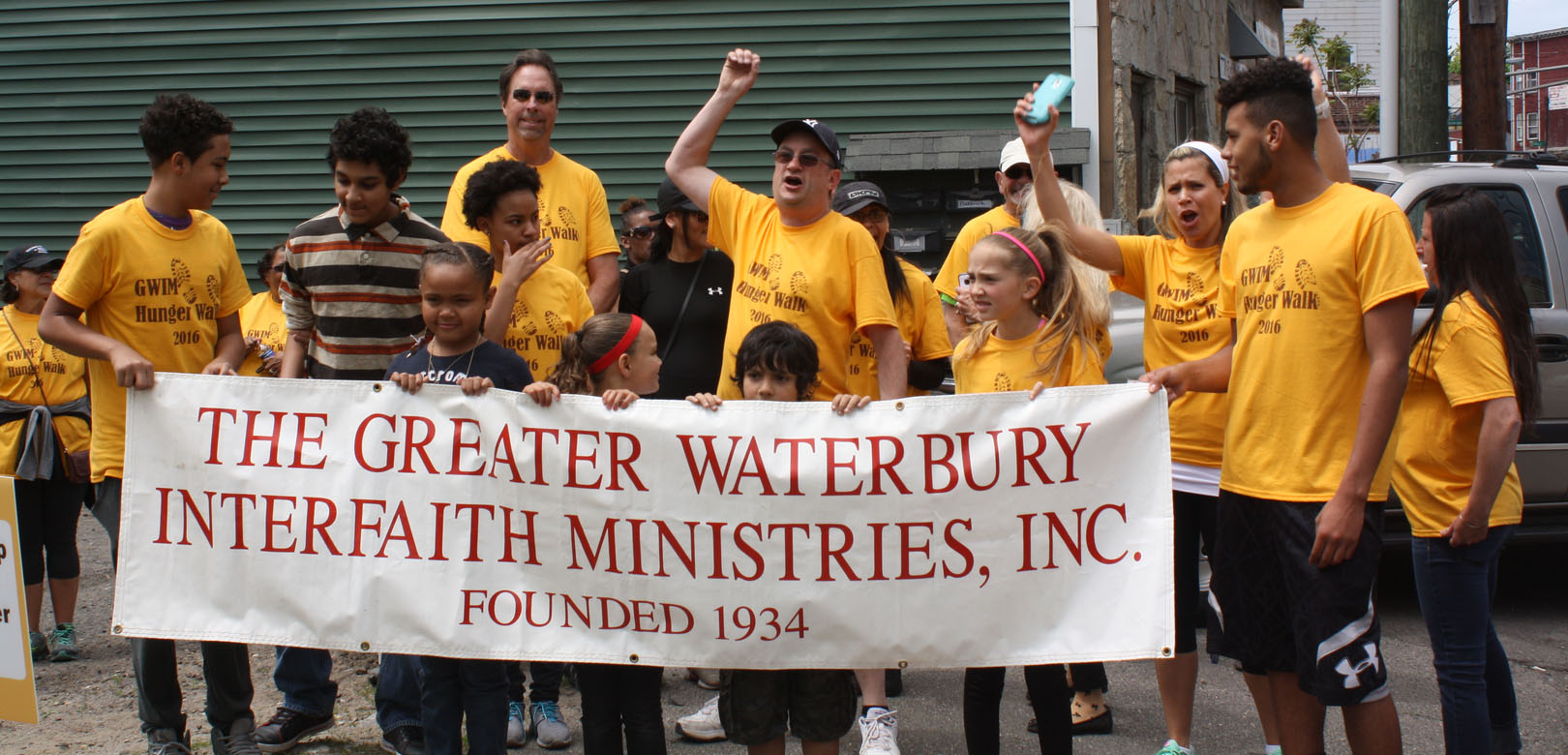 Serving the Community By
Letting the Community Serve GWIM
GWIM serves the community by using the people's power of agencies and organizations like Easter Seals, Marrakech Inc., ARC, Maturity Works, Community Court and many more.
Provides a nutritionally healthy fresh meal each weekday to hundreds of people in need. On the weekends both Saturday and Sunday we are open for bag lunches.
Emergency Food Pantry provides groceries once a month to feed the whole household and single bags of groceries as the need arises. Please check the Food Pantry schedule for any changes.
An environment built around the idea of personal privacy where people can feel safe to openly ask for assistance without others knowing through on-site visits from a wide breadth of collaborative outreach programs.
A respite from the summer months for kids in Waterbury. Kidz Club is located in the "White House", where GWIM provides reading, arts, crafts, games, puzzles and fun activities during the schools' summer break. GWIM provides a daily breakfast and lunch for the "kids" in the Dining Hall, where there is also a cooking class on Friday's for the children to engage in.
Most people experiencing homelessness are individuals (67 percent). The remainder (33 percent) are people in families with children.
A total of 552,830 people were experiencing homelessness on a single night in 2018. This number represents 17 out of every 10,000 people in the United States. (National Alliance to End Homelessness)
Far too many Americans continue to live in poverty—42.6 million people or 13.4 percent of the population. Many people and families living in poverty struggle to afford basic necessities. This includes housing.
In 2017, 6.7 million households spent more than 50 percent of their income on rent. They were experiencing a "severe housing cost burden". This number represents a decrease from the previous year but is still 17 percent higher than it was in 2007.
Here Is What Our Community Is Saying
"I met Barbara Ann Dublin twelve years ago when I first arrived at  the Soup Kitchen at St. John's Parish, Waterbury CT. I was eating lunch there and she came over and introduced herself.  I explained to Barbara Ann that I was homeless and she was very concerned and asked how she could help. I told her where I was living in the "woods" and she would visit me regularly bringing me gift cards, coffee, a very warm sleeping bag and blankets.
Barbara then made many phone calls to all the necessary agencies that could help provide shelter and an apartment.  I would love to eat at the Soup Kitchen and became a regular. While utilizing the services of the Soup Kitchen, representatives were asked to come in by Barbara Ann to interview me and reached out to me so they can offer their assistance in providing a roof over my head. 
The Soup Kitchen was wonderful; it provided me with a nutritious meal and also a safe haven from being in the woods.  With Barbara's assistance, I have an apartment, furniture, and plenty of food now!
For all of the Greater Waterbury Interfaith Ministries very necessary help that they provided me with, I wanted to give back.  I volunteer for Barbara Ann every single day for twelve years now and plan on continuing for as long as I can. 
 I am very self sufficient to this day and I give thanks and gratitude to the Greater Waterbury Interfaith Ministries, Inc. Soup Kitchen for going above and beyond to provide an extremely nourishing meal and feeding my needs for basic survival and then some!"
"When I first came to Waterbury back in 2013, I was introduced to GWIM.  I must say that I am very grateful to have the opportunity to have access to the Food Pantry when times are really hard.  It helps my family to be able to sign up for a turkey for Thanksgiving . I have been able to receive pampers, household items and toiletries.  The best part is I was in the Shelter for about six months and never missed a meal thanks to the Soup Kitchen. Mrs. Barbara has helped my family with food on non-pantry days.  Also, blankets for the winter and also clothing and toys for Christmas. She provides access to StayWell for all appointments.
I am now in my own apartment six years later, pregnant with my 4th child.  I must say that she is very caring and kind .  I am very happy to have full success with GWIM."
"I am 59 years old and living a life more comfortable than I was living five years ago thanks to Barbara Ann Dublin, the staff, volunteers and associates with the Greater Waterbury Interfaith Ministries, Inc. GWIM.
 Approximately seven years ago, I found myself living in a tent and diagnosed with Parkinson's hypertension and continuous blood clots, all for which I need to take an assortment of medications.
 The combination of these medications would make me intensely sick to my stomach if not taken with food and since my budget did not allow me to purchase much food, I would not take the medications in lieu of the side of effects just making my illnesses worsen."
"For those of you who don't know who I am my name is Joann and this happens to be my tenth year anniversary for who I am today.
I am here not only to say Thank You, but, to tell everyone that the Greater Waterbury Interfaith Ministries Soup Kitchen and Food Pantry is not just about food and feeding the hungry, it goes way beyond that, a lot further than that.
I am just one of many that have been helped by this wonderful organization.  It was here where I found the strength, not to give up or just settle for where I was in Life.  My positive attitude began when I was asked by Barbara and Regina what was wrong and how can we help.
Here are some examples of what GWIM has done for me:  they not only helped me to find the resources for Housing, Programs, and Clothing, my self-esteem gradually rose and I began to want to do other things to better myself.  With the help of Barbara, I applied to a program called Maturity Works and trained at GWIM for four years and received various certificates for duties in the Soup Kitchen.  I now have accomplished my goal in getting my license back, endorsements to drive school children and drive seniors and I am now working for a Transportation Group."
Become A Part Of The GWIM Community And See
Just How Much Of A Difference You Can Make In
The Lives Of Thousands Of Men, Women, And Children.